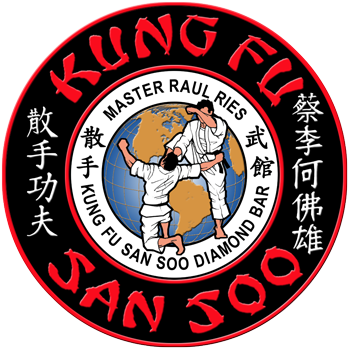 The Ancient Art of Self Defense
As Taught by Grandmaster Jimmy H. Woo

Who We Teach
Men and Women (Ages 14 years old and up)
What We Teach
• Confidence
• Morals and Values
• Hand-to-Hand Combat
Class Schedule
Monday and Thursday from 7:00pm – 8:30pm
In the Fellowship Hall of Calvary Chapel Golden Springs
Open to the public (visitors welcome).
Click Here for Calendar and Schedule of Events
Visiting San Soo Student
All Kung Fu San Soo students 14 years old and up are welcome to participate in any of our classes for a mat fee of $20.
Studio Location
Kung Fu San Soo Diamond Bar
Calvary Chapel Golden Springs
22324 Golden Springs Drive
Diamond Bar, CA 91765
(Click Here For Map & Directions)
Rate Schedule
Students may enroll on a monthly basis. There are no long-term contract requirements.
New Student
Month-to-month payment schedule: $70 per month + $45 for a uniform if needed.
- or -
Pay 4 months in advance ($70 x 4 months = $280) and receive a free uniform (this is a savings of $45) or receive a cash discount of $40.
(The total must be paid in full to receive the uniform free or cash discount)
Returning Student
Month-to-month payment schedule: $70 per month.
- or -
Pay 4 months in advance at the discounted rate of $240 (this is a $40 savings off the month-to-month price) or pay $280 and receive a free uniform (this is a savings of $45).
(The total must be paid in full to receive the uniform free or cash discount)